The pandemic has put eCommerce at the forefront of retail. Overall, eCommerce seems to be in a pretty good place during the pandemic. Customers may shop online who can't go to a brick-and-mortar store. But as always, nothing is just as simple as it looks.
The pandemic has put eCommerce at the forefront of retail. Overall, eCommerce seems to be in a pretty good place during the pandemic. Customers may shop online who can't go to a brick-and-mortar store. But as always, nothing is just as simple as it looks.
The internet has fundamentally changed the shopping journey of customers.
Buyers often start their shopping journey online, with plans to purchase products online and later pick up the order in-store (Buy online and pick up in-store (BOPIS)) at their convenience.
It has become mandatory now for retailers to showcase all the in-store products on their websites. You can experience this BOPIS feature recently in any of the big brand stores, where you buy a product online (from their website) and pick that product from any of your nearby stores on the same day as soon as you get the notification to pick it.
A key driver of conversions is nothing but a same-day order pick-up from a store, but for this, you have to make sure that customers are aware of this service early in the decision-making process in order to grab on the opportunity.
Using the buy-online-pickup-in-store strategy, a retailer can easily manage both, a brick and motor store and also an e-commerce store.
What is BOPIS in Retail?
What exactly clicks in your mind when you hear BOPIS?
Nowadays maximum of retailers offer BOPIS and as it is digital world people don't want to walk down the street searching for the product of their own choice and spare some extra time.
They explore the internet on various eCommerce sites and order the product which they are really interested in. The product usually takes time to get delivered to your doorstep.
But what if the customer needs the product just after a few hours of ordering it?
Here comes the centre of attraction BOPIS - "Buy Online, Pick-Up in Store"
BOPIS is the new strategy adopted by retailers to boost their bottom line.
The retailers allow their customers to visit their website and buy the product from there itself. After this process, the customer gets an option to visit the store and pick up the order once the order gets ready. In this way, the order reaches the customer on the same day or just in a couple of hours.
What is BOPIS Strategy?
Buy-online-pickup-in-store strategy in retail is a kind of tactic used by retailers that give customers the option to pick up the products in-store that they have purchased online from their websites, rather than having them shipped to their home. It's particularly convenient for customers who are too busy to visit and browse a physical retail store.
BOPIS is a strategy adopted by brands as a model to remain ahead of the curve. It is a considered retail sales strategy that has developed with the growth of eCommerce. This omnichannel retail tactic offers buyers the convenience of purchasing products online or on their mobile device, and the ability to quickly pick up their orders at a local store.
But how exactly does it work, and what impact can retailers expect from it? Find out how BOPIS works, BOPIS benefits for retail, requirements for offering BOPIS, and challenges faced while implementing BOPIS strategy in retail.
Buy Online Pick-Up In Store Benefits for Retail
The BOPIS feature also benefits the retailers in the following ways -
BOPIS Benefits for Retailers
If the retailers opt for this, there are chances to increase their sales count.
A retailer can have client interaction.
BOPIS helps reduce shipping costs
Increase store traffic
Provide faster, more flexible order fulfilment service
Inventory accuracy with a real-time inventory control
Marketing opportunities to suggest relevant or related products while sending confirmation emails to customers.
Provide special coupons with in-store pickup receipts to drive customer loyalty.
BOPIS Benefits for Customers
If customers need a product urgently, they can buy it online and pick it up from the store in an hour or so.
This removes the delivery wait time for customers completely.
Shipping can be much more expensive for shoppers to have products shipped to them.
Consumers can save money and time by picking up their purchases in-store, but still ordering online.
If a customer does not like the product, returns or exchanges can be processed immediately instead of shipping the order back.
With BOPIS, the order is packed first and later informed to the customer that it is ready for pickup.
This gives customers the guarantee that the product will be available in-store.
How Does the (BOPIS) Strategy Work
The buy-online-pickup-in-store strategy in retail is fairly straightforward to implement. If you have both a physical retail store and an eCommerce website, all you have to do is simply add an extra delivery method and ensure your brick and mortar can process these orders efficiently to provide a better BOPIS experience.
You'll also need to ensure that there is a designated area in your physical store to effectively deal with BOPIS orders that allow customers to quickly pick up their orders that are placed online.
The process of Buy online and pick up in-store (BOPIS) is simple, and you need to follow the below-mentioned steps:
Step 1: Browse and Buy your Product Online
Customers can browse the products online and purchase products online through the mobile app or website of the store they want to purchase from.
Step 2: Select the Preferred Store Location on the Checkout Page
After the product purchase, customers can select the nearby store from which they want to pick up the order.
Step 3: Choose the Pick-up Date and Time
Following the second step, customers have to select the pickup date and time on which they will be collecting the order.
Step 4: Receive a Confirmation Mail
After the successful checkout step, customers have to wait for the confirmation mail sent by the store admin to pick up their order.
Step 5: Pick up the Order from the Store
In the meantime, the store owner will pack your ordered products for you and make it reach for pickup.
Yay!! Now you can go and collect your order on the selected date.
Impact of BOPIS on Retail
Pandemic has highlighted the importance of digital transformation. Retailers with a strong eCommerce strategy and with a lot of services available that are for customer convenience have more flexibility, more sales, and more customers. Also, by this, they have a better chance of surviving supply chain disruptions.
Buy online, Pick-Up In Store Statistics
Digital initiatives such as BOPIS (Buy Online, Pick Up in Store) have been so important for big-box sellers to survive during the pandemic.
That's why today,83% of consumers agree that convenience is more important when online shopping.
Increases revenue by driving in-store purchases upon order pickup. As per Invespcro, 49% of customers make extra purchases when picking up products in-store.
BOPIS reduces cart abandonment and delivery costs. Around 60% of online shopping carts are abandoned because of high shipping costs.
As per OpenBravo, 77% percent of retailers agree that providing BOPIS in their stores has reduced the return volumes, and saved on the cost of restocking products and processing refunds.
Challenges of BOPIS Strategy in Retail
So, if BOPIS offers so many benefits, why haven't all retailers already implemented BOPIS at their stores? Using BOPIS in the right way isn't easy. One wrong step and customers will get frustrated and undermine your business.
It's true, that BOPIS offers multiple benefits, but it also has its fair share of challenges:
Order Rush
Inventory Control and synchronization between online and in-store inventory
Orderly Queues
Supply Chain Infrastructure
Rapid Fulfilment and train staff to fulfil online orders
Increased fraud risk
Legacy technology systems are not sophisticated enough
What are the Requirements For Offering BOPIS
Just make sure you have the following requirements to ensure a successful BOPIS offering:
A website or app for ordering.
At least one brick and mortar location.
Real-time inventory capabilities.
A location that allows for easy pickup in-store or even curbside pickup
Some Examples of Retailers Who Offering BOPIS
1. GAP
GAP, one of the biggest fashion brands, is offering two new ways to shop:
Buy online, pick up curbside
Buy online, pick up in-store
Source: GAP
It's really impressive how the GAP's BOPIS landing page provides a step-by-step guide about how their BOPIS process works, plus an FAQ section at the bottom. The process is clear for customers — and this is one of the great ways to encourage people to buy more, as they will get their products on the same day or at least earlier than online delivery.
2. Sephora
With a 20-year-old ecommerce site, Sephora launches a buy-online-pickup-in-store strategy (BOPIS) at all stores and curbside pickup at most locations.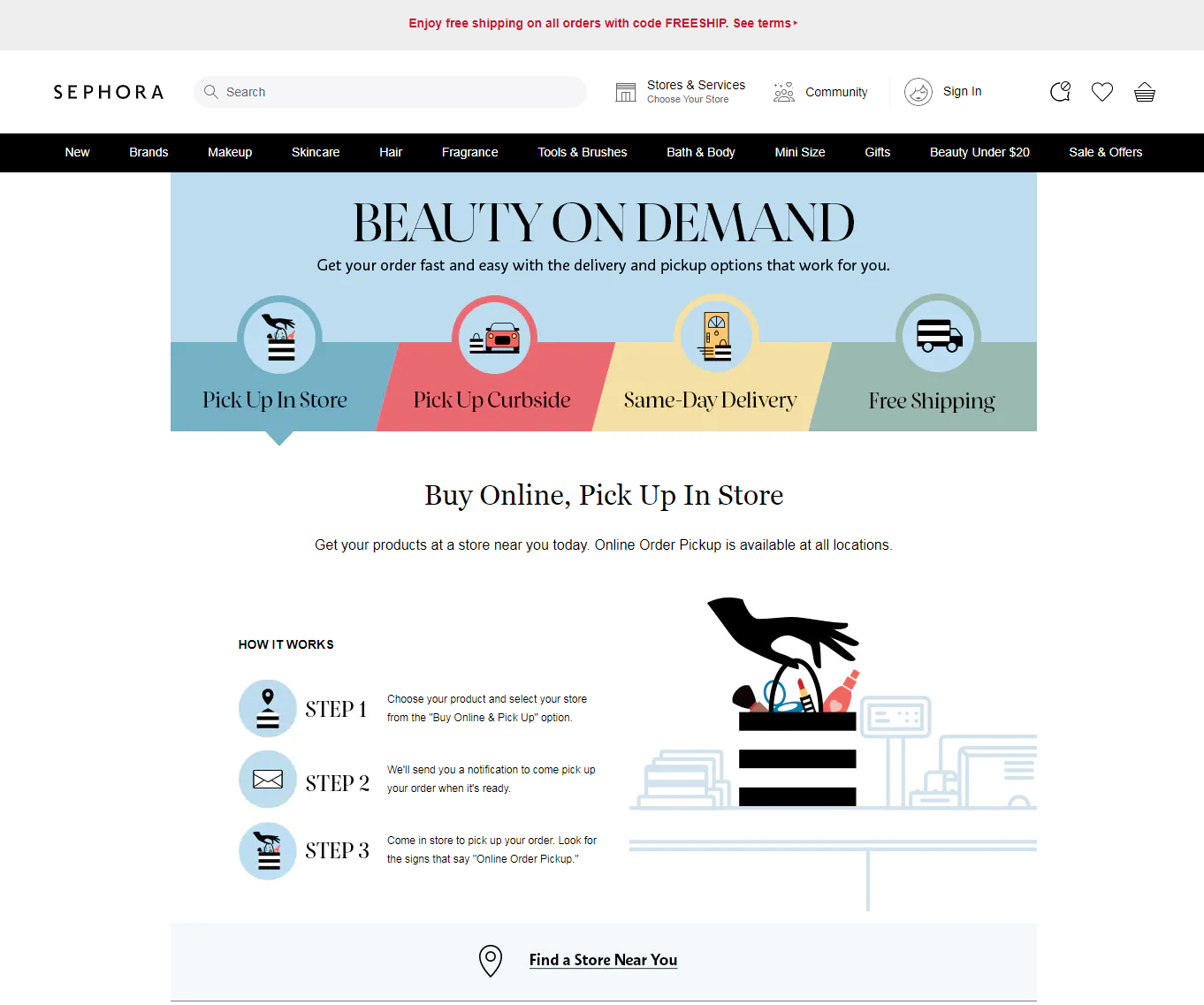 Source: Sephora
Wrap Up
Retailers need to be bold and flexible. As changes are rolled out in an eCommerce industry, it's a chance to learn about customers and to quickly understand what works, what doesn't, and where to go next.
A buy-online-pickup-in-store strategy in retail implemented effectively can be extremely profitable. Shifting deliveries to in-store options from inefficient last-mile options will not only reduce shipping costs, but also increases the chances that customers end up spending more with each order.
And yes, you should choose BOPIS to stand out from your competitors. Customers always run behind the convenience and savings, and both these benefits are offered by in-store pickup service. They will buy from retailers who are offering BOPIS service.
For more information on BOPIS, contact MageAnts. If you have already an eCommerce store, you can also go with Magento 2 store pickup extension. This extension will facilitate customers to make an online order and schedule a self-pickup of their order from the nearby store outlet as per the working hours of the store and their own convenient date and time.
FAQ: "Buy-Online-Pickup-in-Store" Strategy